Deepening our Membership of the Church's Family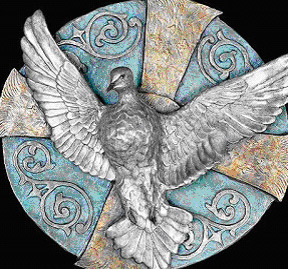 In this diocese preparation for Confirmation is undertaken in the Catholic Primary Schools and in this parish that is St. Mary's Catholic Primary School. However if your child, for whatever reason, is not attending a Catholic school or missed out on First Holy Communion, it may be possible to arrange this through the parish.
The Role of Parents
Confirmation requires a commitment from the young person, but the Church also asks for a commitment from the family, supported by the help and prayers of the Parish community. Seeing the witness of their parents' faithful participation at Sunday Mass can be one of the most important factors in the formation of a child's faith.
You as parents are the first teachers of that faith; but it is not always easy being a Catholic parent within the current cultural climate which so often throws up new challenges and difficulties.
Choosing a Sponsor
Sponsors should be chosen on the basis of Christian example and friendship; they should be the kind of people that candidates can go to and discuss spiritual and moral issues in their lives. Sponsors must be practicing Catholics; they can be the candidate's Godparents, but they can also be someone different, who the candidate wants to support them in their faith journey.
Choosing a Saint's name
The Catholic Church gives us role models to help and encourage us by their intercession for us as we face life's challenges, so it is important we think carefully about the Saint that we choose. For help choosing a Saint's name click here.
For Adults
You may be an adult who did not receive the Sacrament of Confirmation when you were younger for whatever reason, and you may now feel ready to take the step. Please do contact the parish priest who will be delighted to talk to you.
The Seven Gifts of the Holy Spirit
Fear of the Lord
To infuse into our soul a hatred of sin and a wish to never offend God.
Fortitude
To strengthen our soul to be courageous in serving God.
Piety
To enable us to want to please God in all things
Counsel
To discern what the Holy Spirit wants us to do.
Knowledge
To help us to see God in the ordinary events of our life.
Understanding
To gain a deeper knowledge of the mysteries of our faith.
Wisdom
To experience God through love.
Confirmation. . .
brings an increase and deepening of Baptismal grace …
It unites us more firmly to Christ

It increases the giftsof the Holy Spirit

It gives us a special strength of the Holy Spirit …

to spread and defend the faith by work and action as true witnesses of Christ

to confess the name of Christ boldly

to never be ashamed of the Cross
What to do
If your child, for whatever reason, is not attending a Catholic school or missed out on Confirmation, it may be possible to arrange this through the parish.  Contact the Parish Office (01527 852524) or use the contact form to arrange a meeting with the Parish Priest to discuss a date for your child's Confirmation.